This web page uses .pdf files and is

Acrobat Reader enhanced.
PDF files may take awhile to load, please be patient. Also, you may check to see if you have a new version of the Acrobat Reader.
Theodore P. Letis Resources
This page is now dedicated "In Memory of" my friend Ted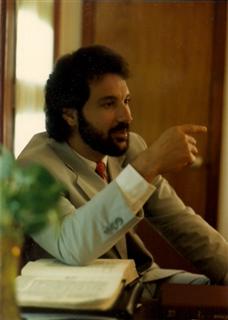 Special thanks to Pastor Ed Sager for the Photo. It was taken while Ted was doing a lecture/presentation for the Highlands Grace Reformed Church in Sebring, FL in October 1988.
---
NOTE: This is not the "official" web site of Dr. Letis; however, this web page has become the most thorough listing of Dr. Letis' materials on the Internet. I have attempted to honor his work and memory. The presence of any materials, links, or resources on this page in no way indicated any type of endorcement by Dr. Letis to other materials on this web site. The resources on this page are provided for research and information purposes only and are not to be distributed without express permission of Theodore P. Letis (this comment was approved by him when he was alive and I have taken every effort to receive permission from publishers to host additional resources here). Special thanks to Susan Letis for giving permission to host additional resources on this web page. This web site is not responsible for changes that may take place to other web sites. Resources are being provided which are felt to be beneficial in this area of study - textual criticism - and are not necessarily fully endorsed by the management of this web site. Send any beneficial Bible translation links or resources to orders@holywordcafe.com for evaluation. This page updates every now and then, so check back. If you have additional resources to add to this collection or have resources that are now broken links on this page, please send them to me. Enjoy. Thanks!
---
Published Books and Materials

Publications of the Institute


The Majority Text


A New Hearing
for the Authorized Version


The Ecclesiastical Text


Edward Freer Hill's
Contribution to the Revival
of the Ecclesiastical Text

Click here for a review.


Radio Interviews and
and Lecutre: 1991-2001

Click here for a synopsis.
(See below for MP3s)


The So-Called
Dean Burgon Society
and Other Follies.
(hosted here)


Martin Luther
and
Charismatic Ecumenism
(hosted here)
Theodore P. Letis Audio (hosted here)

In 2002, Ted and I worked briefly on a multi-media CD ROM project. It involved capturing the 6 cassette tape series (see picture) to a digital (mp3) format for PC use. The project was never completed. Now that Dr. Letis is no longer with us, I have spoken with Susan Letis and she has graciously given permission for these materials and others to be made available here free of charge. It is my privilege to host these materials as they are still relevant to the modern translation issue. Please note file sizes.

Other Lecture (Running time 31:17 - 3.58 MB 3,666KB) The So-Called English Standard Version Lecture on the English Standard Version by Theodore P. Letis, Ph.D
Theodore P. Letis Articles/Reviews (hosted here)
Theodore P. Letis Letters/Replies (used by permission - hosted here)
I.R.R.B.S. Newsletters (used by permission - hosted here)
HUMANITAS Occascional Newsletter (used by permission - hosted here)
HUMANITAS The Occasional Newsletter of The Institute for Renaissance and Reformation Biblical Studies (Winter, 2004)
Humanitas_Winter_2004.pdf

HUMANITAS The Occasional Newsletter of The Institute for Renaissance and Reformation Biblical Studies (Summer, 2004)
Humanitas_Summer_2004.pdf
---
Back to the Bible Translations Page
for Web Page Design services contact:
orders@holywordcafe.com or visit: